When it comes to crafting, won't you agree that the best craft supply is paper? The magic of turning simple paper into something beautiful, with easy DIY paper crafts, is just so fulfilling. That's why we love paper crafts so much! This list of fun crafts for tweens with paper will give you lots of new project ideas.
Different types of paper crafts may use construction paper, cardstock, newspaper, old magazines or plain white printer paper. For some projects, you can even use cardboard and paper from your home recycling bin! Paper is an inexpensive material that you can get anywhere.
This post contains links to products that you can purchase. If you click through and make a purchase we make a commission.
Crafts are the best at-home activities. They can be easy to do, cheap, and can nurture the imagination. In a world full of gadgets and advanced technology, crafts help us relax and forget about the busy world even just for a while. Moreover, it's so fulfilling to make handmade things instead of buying them at the store. Give these types of paper crafts a try!
Fun DIY paper crafts for tweens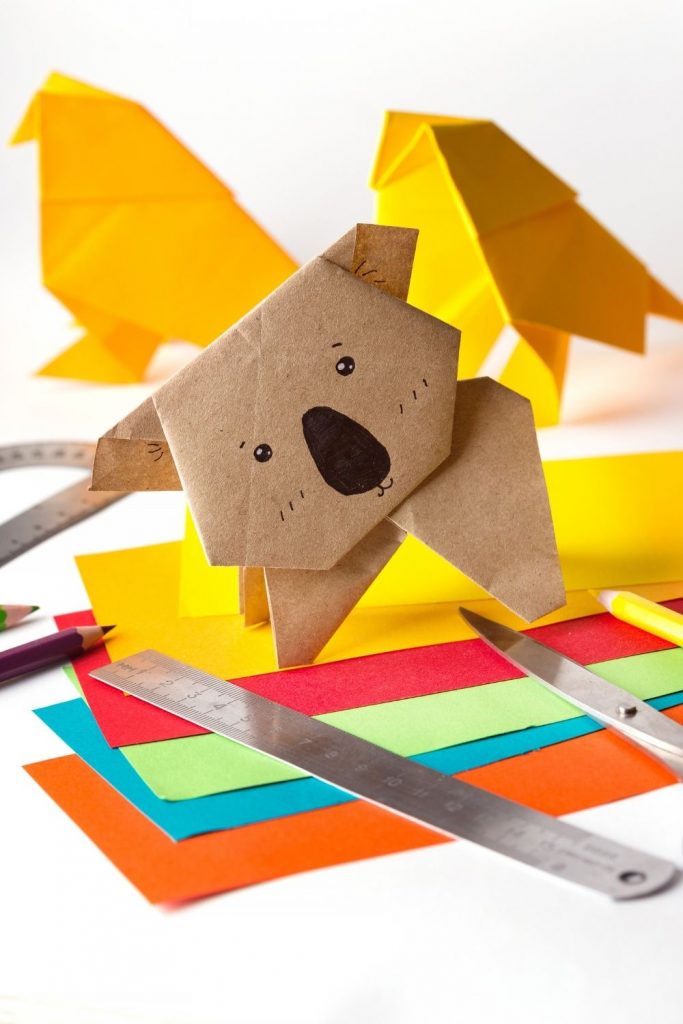 Origami
Origami is the art of paper folding, believed to have originated from Japan and China. Now, it's a popular form of art embraced throughout the world. The best paper crafts for tweens? This is definitely on the top of the list.
Origami can be made into several forms, like toys, plants, animals, and other cute objects. It's an entertaining activity that can boost creativity and mindfulness.
Quilling
Quilling is the art of rolling thin strips of colored paper and shaping them to form detailed designs. Depending on the desired pattern, paper can be curled, twisted, and looped. Then, glue is used to ensure that the paper strips are in place. It's an inexpensive creative hobby that you can start today! All you need is paper, glue, and inspiration!
Quilling is famous for fancy flourishes like florals. You can use it to create jewelry, boxes, and greeting cards! Look for easy DIY paper crafts like this here on CraftsKidsLove.
Cardmaking
There's something really special about getting homemade cards which someone spent time making. Create handcrafted cards for your loved ones, and let them know how much you really care. As a start, try to deconstruct the homemade cards you see online. Check how the cards were made, how the maker kept all the elements balanced, and how many layers were used. As you read more tutorials and try more versions, you'll start gaining new greeting card ideas.
Today, almost all letters and cards we receive are already in digital formats. We're so used to getting those things right now that it's just so fun and delightful to receive homemade items. With homemade cards, you can come up with new designs from scratch, the traditional way. It's more therapeutic and fulfilling.
Scrapbooking
Creating scrapbooks is the art of saving memories in physical form. Sure, you can use your smartphone and apps to preserve precious memories, but nothing will beat treasuring recollections in hard copy. Scrapbookers love placing photos into blank albums and decorating them with artwork and washi tapes.
Plenty of scrapbook supplies and ornaments may be bought at any craft shop, making it easy for any person to come up with a unique scrapbook layout. Sometimes, there's no need to buy anything. Instead of spending on adornments, you can use paper scraps for your scrapbook layouts, and just paint on them!
Toilet Paper Roll Crafts
Most DIY paper crafts are easy to do, but for newbies, some are more complicated than others. Most of the time, we're so busy that we prefer to do easier projects using recycled materials. Here's a suggestion – gather toilet paper rolls and muster creative inspiration!
Create a series of crafts using toilet paper rolls, some of them super functional! One of the first things you can work on is toilet roll organizers. Go with any design you'd like, and use them to organize cables, pens, and other household items. Decorate it with colorful washi tapes or you can draw on the cardboard rolls using your cheap multi-colored pens.
Have you ever wondered how to make a string puppet or marionette using toilet paper rolls? With a few rolls, paint, and some string, you can design dancing characters in less than two hours. Let those storybook characters come to life using recycled, low-cost materials!
People are in love with toilet paper wearable creations, too. You can create a pretty bracelet using tempera paint, acrylic paint, or spray paint. Let the first coat dry first, and then add another layer over it. Add rhinestones, sequins, or other decorative materials to make it even more unique.
Paper Garlands
DIY paper garlands are simple decorations that can breathe new life into your home. You don't need a birthday party or any other special occasion to do these things. Children love having these pretty, crafty designs over their beds. It will also work as a wonderful accent on a plain wall.
What's even amazing is that creating a paper garland doesn't take so much time. In less than an hour, you can make this DIY paper craft for any holiday or season.
Papier Mache
The art of papier mache is all about creating three-dimensional objects by mixing paper with strong glue. After it dries, the object is painted to incorporate more patterns and colors. You can then decorate it any way you want. Depending on what you want to achieve, the creative possibilities are endless.
We first encountered this craft as an art project back in elementary school, but not all papier mache projects are simple. Check out the complicated dragon sculptures Gourmet Paper Mache makes! Surprisingly, sophisticated sculpture and art can be made with papier mache. Try your own simple version at home!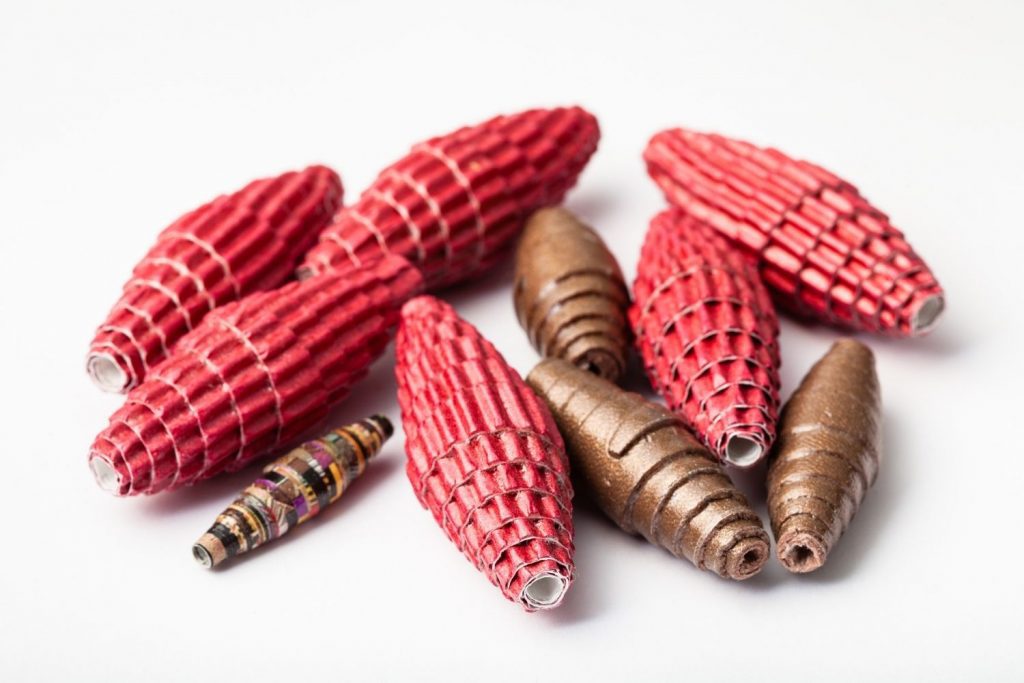 Paper Beads
Did you know you could make pretty, classy beads out of paper? Thick, decorative paper is recommended, but you can use any type of paper you have on hand, including newspapers and old magazines! Even if it's your first time engaging in paper crafts, you can do this!
If you want to come up with super cute, colorful beads that match with your quirky outfits, use scrapbooking paper and wrapping paper. This is probably the cheapest paper craft out there, ever!
Paper-Making
Paper-making is the art of recycling scrap paper into beautiful sheets of paper not available commercially. Many crafters find making their very own paper so satisfying. It's easy, economical and helps our environment. Just remember to set up a dedicated work space for this at home. Unlike other crafts, this can be a bit messy, but so fulfilling and fun. Once you get to make lots of recycled papers, you can even use them to make the crafts on this list.
Paper Wreaths
Just like paper garlands, wreaths are not only for Christmas and other special occasions. We're all about finding new ways to decorate our homes and a wreath is a perfect accessory to add to those boring walls! There are many ways to do this.
Your first option is a DIY wreath made of paper roses. This is more than just home decor. Thanks to the sophisticated look of roses, this creative project is ideal for upscale affairs like corporate events and weddings. A pretty yet economical way to make your event more elegant.
Are paper roses too complicated for you? Try paper tube flower wreaths first. It's super simple, and only costs one dollar to make! One of the best things about this super basic wreath is that it can last a long time. It's easy to clean, too. I suggest using thicker, more high-quality paper – it will surely last for years!
Want to create a DIY wreath using recycled paper? If you don't want to spend at all, go for a book paper flower wreath. Find old, outdated books at home and recycle their pages into paper wreaths. Cute and thrifty!
Here's another idea using material straight from the kitchen. Crafters and bakers, listen up. Use some of those extra cupcake liners to create a homemade wreath. Use a white styrofoam wreath as a base, and then gather a variety of cupcake liners with patterns and colors of your choice. Use a glue gun to hold the paper together. Here's another idea using material straight from the kitchen. Crafters and bakers, listen up. Use some of those extra cupcake liners to create a homemade wreath. Use a white styrofoam wreath as a base, and then gather a variety of cupcake liners with patterns and colors of your choice. Use a glue gun to hold the paper together.