Here are some of the best sewing kits for kids that offer an excellent intro to the art of sewing, complete with all the necessary tools that will assist them in sewing basic projects.
Are you looking for a new, one-of-a-kind hobby for your kids? Well, this may be the perfect time to teach them how to sew.
Sewing is not just a simple activity that can keep your children busy and engaged for a short period. It's a lifelong skill that can help them throughout their lives!
This post contains links to products that you can purchase. If you click through and make a purchase we make a commission.
The Benefits of Sewing
First things first, how does learning sewing benefit kids? The art of sewing is more than 20,000 years old, but it's ever growing relevance and amazing techniques still never cease to amaze us. Sewing graces our everyday lives in ways we don't even realize!
Whether you have a son or a daughter, you can help them explore the world of sewing. There are many reasons why we should teach them how to sew.
Sewing helps kids to become more patient people
Today, everyone seems to be moving in a fast-paced environment, even our children. Instead of constantly using a gadget, it's best to detach from the digital world and do something fulfilling. Introduce a hobby that will help them understand the importance of being patient and taking things slow.
Sewing requires following step-by-step procedures, and it's impossible to move forward without getting the previous step done. No shortcuts, but it's fun and teaches the value of patience effectively.
Sewing helps build self confidence
Kids love learning new things and earning recognition in the process. Thus, learning the basics of sewing and coming up with incredible designs is a big boost to their self-confidence. So here's a great idea. Display the plushies and pouches they have sewn somewhere in their room. This will remind them of their little accomplishments, gaining more confidence knowing that they are capable of doing something like that.
Sewing helps improve fine motor skills
Sewing something, even just to learn the basics, is an elaborate process. Since sewing requires finger dexterity and accurate hand movements, it helps kids improve fine motor skills. Moreover, it helps them move their fingers with utmost precision and handle small objects comfortably.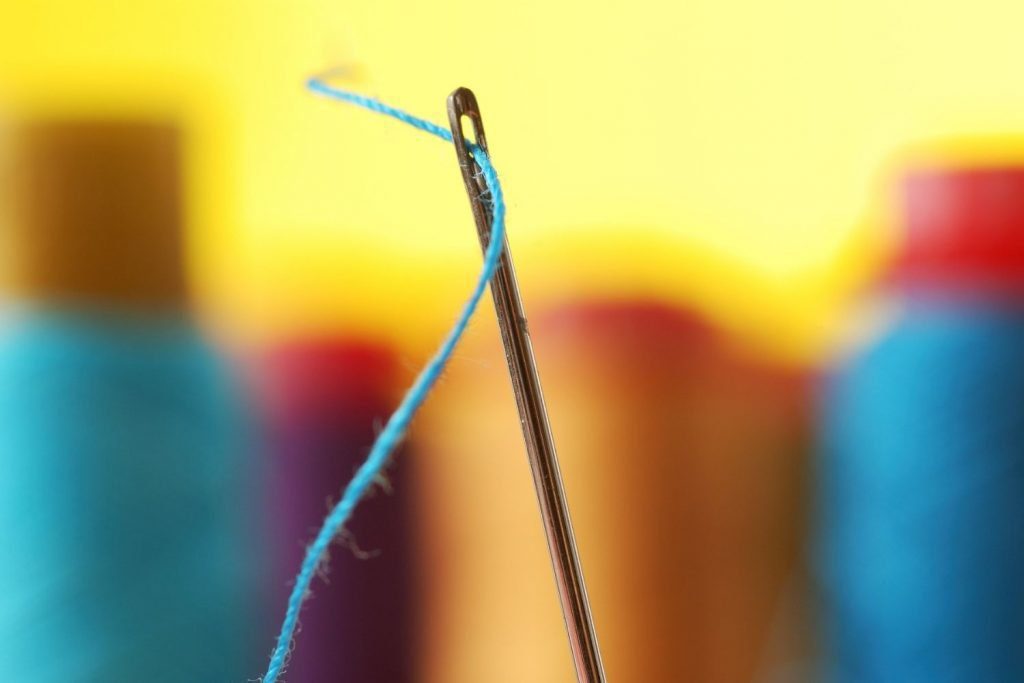 Sewing nurtures calmness and happiness
Sewing is a wonderful hobby that helps us nurture our mental and emotional well-being. It's therapeutic and a fun way to beat stress. It can benefit kids, too, allowing them to take away all the negative feelings and spend their time productively. Sewing may look pretty easy, but it actually keeps our brains active and healthy.
Sewing helps kids celebrate their accomplishments
Each time they finish a sewing project, they accomplish something new and fulfilling. It's a brilliant accomplishment that would most likely encourage your kids to sew more and achieve more. Watch them as they work on their sewing projects, and then afterward, hug them to celebrate that fabulous accomplishment.
More Kits for Big Kids
Like these sewing kits for kids, these projects are aimed at big kids/tweens and include all the supplies you need:
15 Fantastic Sewing Kits for Kids
Here are some of the most adorable and affordable sewing kits that you can give to your kids!
Photo Credit: www.amazon.com
Provide your kids screen-free entertainment through this animal sewing kit. Each kit includes five pre-cut felt animals, seven colors of stitching threads, five kid-safe plastic sewing needles, and other necessary supplies. It has easy-to-follow instructions, so it will surely make your children happy and preoccupied for days.
Photo Credit: www.amazon.com
This unicorn sewing kit can teach your kid simple to advanced sewing techniques. There are scissors, safe needles, and pre-cut and pre-punched felt pieces with well-matched holes. It even comes with illustrated instructions, so little ones can easily create their own legendary unicorn-themed masterpieces.
Photo Credit: www.amazon.com
Help your children sew their own purses! This set includes six felt purses, sew-on accessories, strings, and six safety needles. The flower and butterfly designs make it appear like this kit is exclusively for little girls, but it can be fun to use for young creative boys, too. Once done, the purses can be used as party favors or given away as gifts.
Photo Credit: www.amazon.com
There is nothing like a kid-friendly sewing kit with dragon characters. From colored threads to cotton stuffing, this set has everything your children need to learn basic sewing techniques. The final products are also useful since they can be used as plush toys, wall designs, keychains, and crib ornaments.
Photo Credit: www.amazon.com
By working on sewing projects together, you and your kids can celebrate Christmas all year round. This sewing kit comes with many holiday-themed designs, from Christmas trees and socks to reindeer and snowmen. Suitable for newbies who want to explore basic sewing and make cute homemade plush toys.
Photo Credit: www.amazon.com
Cross stitch is a form of sewing many kids are interested in. So here is a kit that they will surely love to work on: Cross Stitch Starter Sewing Set. It contains five hoops, pre-printed stamped embroidery canvas, safe needles, and easy-to-follow instructions. Once done, the kids can use them as bag charms or as room decorations.
Photo Credit: www.amazon.com
Animals in the form of donuts?! And kids can just sew them up instead of baking them? This sewing set is a book and activity kit in one, complete with instructions, pre-cut felt, and everything else that will help children whip up yummy-looking felt plushies. Then, when they finish, they can display them in the included donut box to keep them looking fresh!
Photo Credit: www.amazon.com
This is not just a sewing set. It's a functional and educational craft kit. By working on this creative project, kids can go on a fun solar system journey. It comes with toy needles and everything else they need to learn basic sewing techniques, and afterward, transform their room ceiling into a space atmosphere.
Photo Credit: www.amazon.com
Let your kids practice basic stitches by making a donut, sandwich, cupcake, pizza, and cookie plushies. This sewing book and craft set have pre-cut and pre-punched felt pieces to make stitching easy for little hands. Perfect for little food lovers and future tailors!
Photo Credit: www.amazon.com
If you want a sewing kit with out-of-this-world designs, look no further than this space explorer set. This sewing kit features pre-cut felt patterns of a rocket, alien, astronaut, and other space-themed items, as well as eight colors of embroidery threads. Suitable for little girls and boys as young as five!
Photo Credit: www.amazon.com
Kids who are interested in gardening and sewing will, no doubt, love this sewing it. It creates four different sets of plants, from peace and hungry gardens to desert and flower gardens. Everything they need is included. They can readily explore basic sewing methods, including French knots, backstitch, and whipstitch.
Photo Credit: www.amazon.com
DIY Christmas ornaments are not just a December craft project! This specific kit allows children to sew decorations and prepare ornaments for the upcoming holidays. They can make six felt Christmas tree ornaments, each measuring around four inches after completion. Handmade embellishments are always the best!
Photo Credit: www.amazon.com
This kit contains everything the kids need to make their very own felt puppy plush. It contains a full set of 12 doggie decorations - a Golden Retriever, Labrador, German Shepherd, and so on. Once complete, they can be used individually or strung along with ribbon as a garland.
Photo Credit: www.amazon.com
Birds are such beautiful crafting inspirations, especially in sewing. This Birds in Flight Sewing Kit comes with plastic needles, safety scissors, and other sewing essentials without points or sharp edges. It also includes pre-cut felt bird patterns with pre-punched holes, nine colorful embroidery threads, and stuffing.
Photo Credit: www.amazon.com
Under the Sea sewing kits are a huge hit to young beginners! It has bigger-sized animals than other kits, as well as stuffing, safe sewing needles, and a case to store the materials when you travel. The bright colors and adorable sea animals will make your child love the art of hand sewing.